Sound Reinforcement


Madtech is a Sound Reinforcement Company. That means we make things louder. If you want to be able to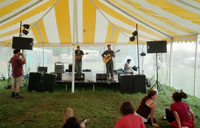 understand what the 84 year old grandmother of 11 is saying on stage, from your seat in the back of the balcony section, then we're your guys. If you want all 1200 people attending your band's concert in the park to hear every beat of the drummer's homage to John Bonham, then we're your guys.
In order to make things louder we have a pretty substantial compliment of speakers, amplifiers, mics, cables, stands, and mixers that we will assemble into the appropriate configuration for your sound needs. We work with both bands and lecturers, business conferences, small clubs, and large outdoor music festivals. We are available to operate your gear, or we can provide the gear.
Rental P.A. (Public Address) Systems:
Pricing for P.A. rentals are dependent on a bunch of factors. How large a system do you need? How long do you need it? How many people will be using the system? How far from Madtech home-base is your event? Please call to discuss the details of your event so that we might be able to offer you the most economical solution to your sound reinforcement quandary. All rentals come with an engineer. (Gear isn't available for rent without an engineer. Sorry.) Have a specific piece of gear in mind that you'd like to make sure we bring along? Just ask. We're always happy to try to accommodate.
The speaker repository includes: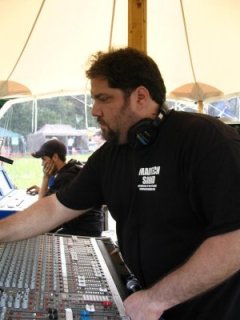 4 TOA HX-5W-WP compact line arrays
12 Technomad Noho (12" w/ 1" coaxials) mains or monitors
5 Technomad Berlin (15" w/ 2" horns) mains or monitors
7 Technomad Chicago (15" w/ 12") smaller subs
2 Prez Design Kingston (Dual 15") subs
4 JBL SR-X (18") subs
The amplifier stockpile includes:
2 QSC PLX 1602
2 QSC Powerlight 3.4
1 QSC PLX 3402
1 QSC PLX 3002
4 QSC PLX 2402
2 Mackie FR1400

Processing includes:
1 tc electronic Finalizer
2 dbx 1531x EQ's
1 dbx DDP comp/eq/limiter/de-esser
1 dbx 1046 four ch. comp
1 tc electronic M2000 multi-effect
1 Yamaha SPX-990
1 tc electronic M350 multi-effect
1 dbx Driverack PA X-over and EQ
2 dbx 166 stereo comps
4 Ashly GQ31 stereo EQ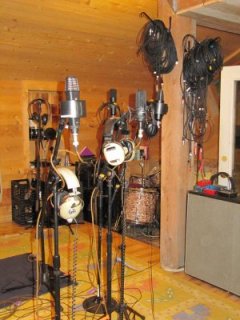 Consoles for the live rigs include: a Midas Venice 240, a Midas Venice 320, a Crest XR-20, and a Soundcraft Gigrac1000 powered mixer.

Madtech Sound's microphone complement includes: A Neumann U87 (1), KM184 (2), AudioTechnica 4033 (1), 4051a's (2), ATM25 (1),? AT4054 (1), AT41a (3) ATM450 (1), Sony ECM-979 (1), Sennheiser MD421 (3), e609's (4), MD441 (1), e504 (3), ?MD431 (3), MXL-603 (2), BeyerDynamic X1N, M500 (w RCA ribbon), TG-X80 (1), Shure sm57 (2), ?sm58 (2), VP88 (1), Beta58a (2), Beta 57a (1), Beta 98 (2), 545SD (2), SM91 (1), Beta 91 (1), 819 (2), sm81 (1), ?Beta 52 (1), SM7 (1), SM58/UT4 Wireless System (2), Audix D2 (1), OM5 (1), OM6(3), i5(1), scx-1 (3), d6 (1), cx-111 (1) Blue BabyBottle (1), Kick Ball (1), Royer R-121 (1), Mojave Audio MA-200 (1), Electro-Harmonix EH-R1 (2), EV408 (1), PL95 (2), RE16 (2), an RE20 and plenty more!
There are Radial and Countryman DI's and there's also a ZOOM H4n Handheld recorder for room and board recordings!



Listen to a 46 audio second clip of MadTech Sound's
Reinforcement of Funky Miracle, recorded live at Charlio's (MP3).

Or there's a whole Vorcza show or two at
http://www.archive.org/details/vorcza2005-07-04
or
http://www.archive.org/details/vorcza2005-04-13
Enjoy!