The Story of Lovetown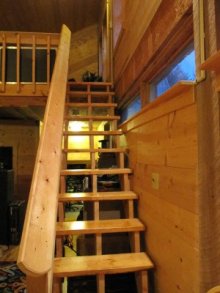 Lovetown started during a conversation over dinner between myself and my step-mother's childhood bandmate- pianist, composer, producer, Don Grolnick (James Taylor, Paul Simon.) He had been regaling us with tales of celebrity faux pas and moments of greatness when the conversation took a turn. Don turned to me and asked me about what I was doing (I was touring full time then) and what I would like to be doing. Without too much detail, I explained that I had been doing plenty of live sound, but that I was kind of interested in getting into recording. He jumped on it. He told me that I should build a studio immediately. I explained that my funds were limited, and that I had only limited studio experience. He basically said, "Well, you won't learn it, if you're not doing it." Over a series of conversations that followed, his advice was key in my purchases of my first recording recording gear and the genesis of Lovetown had begun. But it was still in the larval stages.

We began recording in the basement of the house we were renting in Berlin. Over the next few years, many demos and album projects were recorded in that basement and/or mixed in that old office (The Dave Keller Band, Old Jawbone, Named by Strangers, etc..) While certainly not ideal for recording, the old basement was home for a long time.

While living in and working out of Berlin, I started looking for a space I could buy that could be made over into a proper recording space. 5 years (and a hundred and fifty or so unsuitable spaces) later, we found the house in Middlesex, with its lean-to garage with just the right bones, seemingly begging for a big renovation. The 20 month construction (though it didn't seem like it sometimes while it was happening) was well worth it. The new space is a revelation in sound quality and comfort. The live room is a 20' x 30' raw spruce walled, half-barn design with some curvilinear walls, maple floors, and spruce ceilings going from 6' on one side to 19' on the other. A 10'x 12' lounging area is open to and overhangs the main room. There is a proprietarily designed iso-booth and the control room is a spacious, adjoining 20' x 20'.

Pricing for multi-track recording and mixing in the studio is only $35 dollars per hour, or 10 hour blocks of time are available for $300. There is a four-hour minimum appointment necessary.

There is a 24-track mobile multi-tracking system available at the same rate. The minimum for mobile recording is six hours.

At Lovetown, tracking is handled with a combination of Millennia, Crane Song and other mic pre's and either a Midas or DDA console running into Apogee AD16-X, DA16-X, and Rosetta 192 converters running anywhere from 44.1khz to 192. The Apogee C777 clock keeps everything ticking together in step. This system kicks. Visual monitoring of tracking and mixing is handled by a combination of 30' and 20' (What big screens you have, my dear!) video monitors that are fed by the 8-core, 3-gig Mac Pro with 10 gigs of RAM and multiple hard drives. Comps include: 2 LA4's, 2 dbx DDP's, a dbx 160x, 2 RNC1773's, plus lots more. Monitors include Dynaudio 6a's, Mackie HR824's and Yamaha NS10's with dbx processing.

There's also a 16 channel by 12 mix Hear Technologies console feeding 8 stereo headphone amps for up to 8 stereo headphone mixes for monitoring. Actual stereo monitoring in the phones! Woo hoo!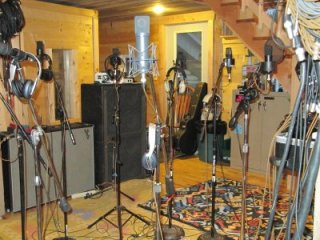 The microphone collection includes: A Neumann U87 (1), KM184 (2), AudioTechnica 4033 (1), 4051a's (2), ATM25 (1),?AT4054 (1), AT41a (3) ATM450 (1), Sony ECM-979 (1), Sennheiser MD421 (3), e609's (4), MD441 (1), e504 (3), ?MD431 (3), MXL-603 (2), BeyerDynamic X1N, M500 (w RCA ribbon), TG-X80 (1), Shure sm57 (2), ?sm58 (2), VP88 (1), Beta58a (2), Beta 57a (1), Beta 98 (2), 545SD (2), SM91 (1), Beta 91 (1), 819 (2), sm81 (1), ?Beta 52 (1), SM7 (1), Audix D2 (1), OM5 (1), OM6(3), i5(1), scx-1 (3), d6 (1), cx-111 (1) Blue BabyBottle (1), Kick Ball (1), Royer R-121 (1), Mojave Audio MA-200 (1), Electro-Harmonix EH-R1 (2), EV408 (1), PL95 (2), RE16 (2), an RE20 and plenty more!

Instruments (free to be used by clients and available for separate rental) include: a 1972 Fender Rhodes 73, a Hammond L-113 organ, a Yamaha P-80 digital piano, a Roland Juno 106, an American Deluxe Fender Jazz Bass, a Japanese P-Bass Lyte, a Wechter Pathmaker acoustic guitar, an Ibanez electric, a 4 piece 1957 Beverly Drum Kit (3 ply birch Premiere shells, sizes 20" x 12", 16" x 15", 12" x 8", and a killer 14" x 5.5" snare.) Plus lots of little percussion toys and silly little instruments.
In house amplifiers include: the Fender Princeton Recording Amp, a class-A'd Pro-Jr., a Vibro-Champ, a Roland JC-77, a Supro 1-12, an Acoustic 370 bass amp, a Yorkville 100 PowerWedge and a Gibson GA5-WT.
Cabinets include: 2 Grendel Dead Room 1-12 Iso-Cab's (one with a Celestion Greenback, and the other with an EVM12L,) a Bandmaster 2-12, a Dean Markley 1-12, an Ampeg SVT 810, and Acoustic 2-15 and 1-18 cabs.
Other accoutrement include: a Mindprint En-Voice mic pre/ tube comp/ DI, a Presonus Eureka preamp, a dbx 386 dual tube mic pre, an Avalon U-5 DI, 4 channels of BSS active DI's, 2 Countrymen DI's, 4 Radial JDI's, a TC M2000, a TC Finalizer, a Roland Spring reverb, 2 Urei 527 EQ's, Effectrons, an Ashley 572 Parametric EQ, a Yamaha SPX-990, an SPX-90II, a Korg DRV1000, an Ibanez DMD2000 delay, a Boss DD-20 Giga-delay, a TC M350, a Korg Kaossilator, a Kaoss Pad, and a lot more.
There are lots of Sennheiser and Koss headphones and plenty of extra cables in case you forget your own…